The Snowdrop
Needing to breathe some cold, fresh air,
Needing to raise my lowered spirit,
I venture outside at dusk to look at the sky,
It is clear and still, but the stars are bright,
Under the sleep of winter all silently lies,
As I turn back inside to the warmth and the light.
But in a corner I had thought was bare,
My eye catches a small speck of white,
Small and fragile, pure and slender – a delight
nodding its leaves and green-tipped flower,
Over-wintered in dark, frozen dirt,
Now emerged into the cold February air.
Standing alone, isolated, head bowed,
Such a beautiful, delicate thing,
It looks far too tender to withstand
Winter's bite and frozen sting.
Yet, the wind has not flattened it, the ice has not frozen it,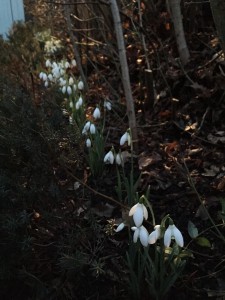 The rain has not drowned it, nor the lack of light quashed it.
It stands in place, living-out its purpose,
Heralding spring, beckoning sunshine,
The forerunner of all the spring flowers,
And by its overcoming, determined defiance
I am encouraged towards this Lenten-time,
Reminded of the love and the hope that is mine.
© Sheena Conroy   February 2015